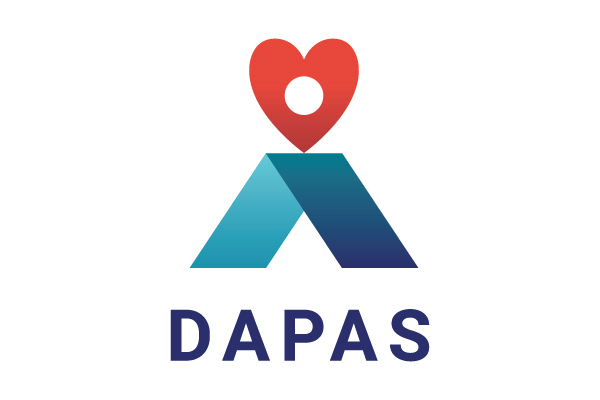 DAPAS – DEPLOYING AAL PACKAGES AT SCALE
DAPAS aims at delivering a innovative solution, which is based on the needs of older adults and their relatives. The project will bring together successful outputs of previous AAL projects, like Emma, DALIA, zocaalo, kwido and RelaxedCare, developed from different companies in different countries. These innovative solutions will be combined to one product that can be distributed on a larger scale thus to improve quality of life of many people.
First, DAPAS will integrate differentiated service packages that increase security, supports activities of daily living and facilitates communication. Secondly, DAPAS will build up the organizational and technical structures and framework around the packages that allow for a distribution and plug & play installation in a bigger scale. Thirdly, DAPAS will evaluate the impact of the packages on users and the installation and distribution process in three countries – Portugal, Luxembourg and Austria – with varying culture and languages.
The General Objectives of the project are:
Combine and adjust existing resources in projects and products (DALIA, Emma, RelaxedCare) whose success has been previously proven and form AAL support packages in this project;
Create organizational and technical structures for an easy and large-scale distribution of DAPAS support packages;
Evaluate the process of configuring and distributing a multinational and multilingual AAL solution (a process not covered in most AAL projects so far), validating the approach developed in the DAPAS project and applying the learning in its business strategy;
Evaluate the impact and acceptance of AAL packages by users to apply the learning in their business strategy;
Demonstrate the benefits of using a solution that provides AAL packages to end users through assessment, including relevant measures in the study.
---
MAIN TASKS OF CDC IN THE PROJECT:
Cáritas Diocesana de Coimbra is the Portuguese field trial, that aims to test with 40 users the efficiency and acceptability of the DAPAS system.
In addition, Cáritas de Coimbra has an active role in the writing of deliverables, leads the "User advisory Board" and disseminates the project in various events, workshops and seminars.
---
PROJECT SUMMARY
Project Name: Deploying AAL Packages at Scale
Project Acronym:: DAPAS
Start date: 01/09/2018
End Date: 30/08/2021
Total Budget: 1 659.691€
Project Coordinator: exthex GmbH
Partners:
IDEABLE SOLUTIONS, SL
AIT Austrian Institute of Technology GmbH
Ideable Solutions
University of Deusto, eVIDA
Steftung Hellef Doheem
Medical University of Vienna
New Design University
Red Cross Styria
Website: https://dapas-project.eu/
Linkedin: https://www.linkedin.com/company/dapas-project/
Facebook: https://www.facebook.com/dapas.eu.project/
---
PROJECT FUNDING:

DAPAS is co-funded by the European AAL Joint Programme (Active Assisted Living – ICT for Ageing, 2017) and, in the portuguese case, by the Fundação para a Ciência e a Tecnologia, I.P.
---
NEWS:
Event dedicated to the EU's Research and Innovation programmes had Cáritas Coimbra as a speaker
Cáritas Coimbra participates in the third AAL2Business workshop
Cáritas Coimbra visited by International Technical Expedition
Cáritas Coimbra participates in the second workshop AAL2business
Cáritas Coimbra debated challenges for development in ageing communities
Cáritas Coimbra will debate Ageing Communities in the 1st International Congress Age.Comm
Cáritas Coimbra shares knowledge at AAL Austria conference
DAPAS and Toilet4Me projects presented as good practices in Ageing Seminar
Cáritas Coimbra invited to AAL Austria Conference
Cáritas Coimbra to discuss ethics, data and privacy protection | AAL Forum 2019
Cáritas Coimbra with significant participation in AAL Forum 2019
Cáritas Coimbra participated in the first consortium meeting of the Dapas Project in Bilbao
Cáritas Coimbra to take part in the European meeting on Friendly Environments
Cáritas Coimbra with strong presence at the eHealthSummit / ISfTeH
Cáritas Coimbra to take part in the European meeting on Friendly Environments
Caritas Coimbra shared results on the usability of virtual assistants in WorldCist'19
DAPAS project takes Cáritas coimbra to the 7th edition of the WorldCist'19 Conference
Cáritas Coimbra with strong presence at the eHealthSummit / ISfTeH
Cáritas Coimbra is participating in the Workshop of experts in Interactive Technologies of the European Commission
Cáritas Coimbra shared experiences on Senior Health Innovation
Cáritas Coimbra shares experiences in the field of robotics
Caritas Coimbra shared good practices about Healthy Cities
DAPAS Press Release English (Oct 2018)
Cáritas Coimbra presented SHAFE's Joint Statement to the European Commission in Brussels
Caritas Coimbra shares ideas on SHAFE and Health Tourism | Naples – October 15-16 2018
SHAFE will launch a White Paper in a workshop at ICT 2018
Cáritas Coimbra will moderate session at the Nortexcel Care Workshop
Cáritas Coimbra with active participation in AAL 2018 Forum | Bilbao – September 24th to 26th
Cáritas Coimbra participates in the kickoff meeting of the DAPAS project