Cáritas Coimbra with active participation in AAL 2018 Forum | Bilbao – September 24th to 26th
Caritas Coimbra will participate in the AAL Forum 2018, which will take place in Bilbao, Spain, from September 24 to 26.
Carina Dantas and Ana Luísa Jegundo of the Innovation Department are members of the 2018 Forum Organizing Committee. They have participated in four meetings scheduled to outline the program and guidelines for this year's edition of the event.
Caritas will also attend Workshop 12 – Smart Healthy Age Friendly Environments and the role of caregivers in the deployment of ICT based approaches. This workshop will discuss the main conclusions of the Thematic Network on Smart Healthy Age Friendly Environments (SHAFE) – draft Joint Statement – and the Green Paper on the role of caregivers in ICT development and exploitation of AFE. Overall aim is to discuss how to enhance People (including caregivers) and Places to achieve affordable large scale smart healthy age-friendly environments in Europe and sustainable health care systems.
Carina Dantas and Ana Jegundo are speakers in this panel and will be bringing their expertise to actively involve participants on how to achieve affordable, large-scale, smart, age-friendly environments in Europe, and how to improve the engagement of caregivers.
The Active and Assisted Living (AAL) Programme promotes innovative technological product ideas and services for active and healthy ageing, supporting them until they launch on the market. These innovations are presented at the annual AAL Forum, among the largest European events of its kind. The forum provides an excellent opportunity to network within the AAL community and to discuss issues around AAL within workshops, keynote presentations and a large exhibition area.
Cáritas Coimbra will take advantage of this event to disseminate the DAPAS project, its ambitions in terms of results and experiences for the end users, as well as the sharing of experiences and good practices among the partners present.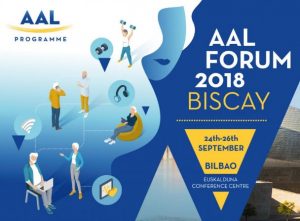 ---