Cáritas Coimbra participates in the kickoff meeting of the DAPAS project
Caritas Diocesana of Coimbra is in Graz – Austria, represented by Carina Dantas and Ana Luísa Jegundo, to participate in the kickoff meeting of the DAPAS project, which will take place on September 18-19.
During the 18th, Carina Dantas – Innovation Director – presented the User Advisory Board that Caritas Coimbra will lead in the project, as well as the Institution and its work and Ana Jegundo – Project Manager – made an evaluation of the projects in which Caritas has been involved in recent years.
The DAPAS project will respond to the challenge of effective use of technology by older persons. DAPAS will bring together the results of previous successful AAL projects, combining them into a market-leading product for end-users and their caregivers that can be distributed on a large scale.
The consortium of this project is composed of research entities, industry and social economy. The partners will contribute with their experiences and skills in order to promote the efficient implementation of the solution and the pilot provided in this project.
This project is financed under the AAL program, with Portuguese funding being provided through the Foundation for Science and Technology.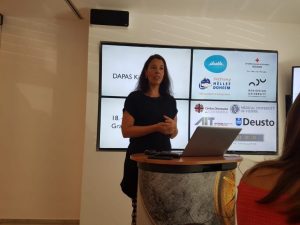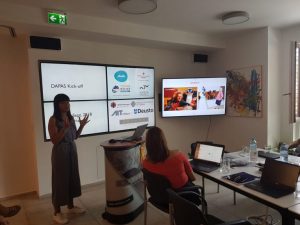 ---