Cáritas Coimbra exchanges experiences with Spanish Higher Institute
Cáritas Coimbra was at Casa da Esquina, in Coimbra, exchanging knowledge about good communication practices for diverse and specific audiences – people in situations of dependency and vulnerability. The session took place on January 30th and was promoted by Graal.
Between January 27th and 31st, Graal received a group of four professors from the Instituto de Mallorca Cifp Son Llebre (Mallorca – Spain), from higher education training courses in Social Integration, Communicative Mediation and Promotion of Gender Equality. The initiative, originating from a training program funded by Erasmus+, aimed to create a moment of dialogue, with the sharing of experiences and work methodologies, paying special attention to gender issues.
In this sense, the Graal invited Cáritas Coimbra to share its work with the group of Spanish teachers. Flávia Rodrigues, from the Innovation Department of Cáritas Coimbra, presented various projects that are being developed by the organization, with a special focus on those approved under the Erasmus+ programme, namely Avik, IGCAL and Hands-on SHAFE. Two national projects were also highlighted: Triplo D, which aims to increase democratic involvement and political participation of citizens through educational/training sessions and school discussion groups, and CriArte, which aims to promote the acquisition of social skills and professionals from people living in social neighbourhoods, with a particular focus on Roma women.
The session was also attended by representatives of the PIN project, Akto, Casa da Esquina and Coolectiva magazine. This sharing proved to be quite interesting, given that it made it possible to discuss proposals and constructive content for all the entities involved.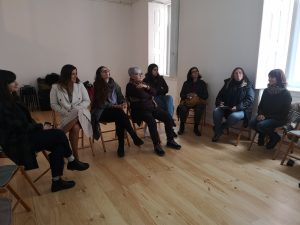 ---