SHAFE's recommendations presented at the second Webinar on HPP
Caritas Coimbra and AFEdemy presented their findings and areas of recommendation in the second webinar of SHAFE Thematic Network – Smart Healthy Age-Friendly Environments: "Joint Declaration: sharing of results and comments", organized by the European Commission through the EU Health Policy Platform (HPP), on Tuesday, 9 October 2018, from 16 to 17 CET.
The results of the research, surveys and interviews were developed by Willeke van Staalduinen (AFEdemy) who presented the framework of the Network and the Framing Paper.  This communication was followed by the outputs of this work that has already led to the definition of 5 key areas of recommendations of the Thematic Network and that Carina Dantas (Caritas Coimbra) presented in Webinar.
If you were unable to watch live, it's not too late – it's online and available for viewing at any time at https://ecwacs.webex.com/ecwacs/ldr.php?RCID=4c084dd73f09e0a249ebb8c95c865288.
This is your opportunity to get informed or to participate in the process leading to the Joint Declaration on SHAFE in the Thematic Networks 2018 cycle that will be presented at the Annual HPP Event in Brussels, on 12 November.
You can see the presentations of Caritas Coimbra and AFEdemy. The Framing Paper can be consulted here.
The specific goal of SHAFE is to prioritize the two main aspects of Age-Friendly Environments – Places and People – in creating eHealth and mHealth solutions – especially focused on quality and costs.
At eHealth, special emphasis is placed on the current state of the art in Europe of smart homes for people with chronic illnesses and disabilities – digital support such as robotics, intelligent living environments and intelligent communication with formal and informal caregivers. It is essential to align technological development with the construction industry in terms of policies and funding in order to provide smart and affordable houses across Europe. This broad implementation of intelligent systems in people's own homes can be the key to a more efficient health system with better quality at a lower cost.
At mHealth, the focus is on understanding and bridging the main gaps between technological development and the real needs and expectations of users, proposing policy measures that favor and reinforce the actual entry of new products into the market, in the hope of reducing inequalities in access to health services.
Caritas Coimbra and AFEdemy Ltd., are coordinating one of the three Thematic Networks of the European Commission for 2018 with a view to drawing up a joint statement to support the definition of European policies and strategies in this area.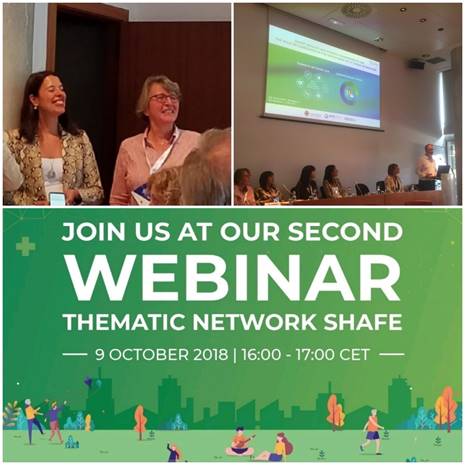 ---