THE THEMATIC NETWORK SHAFE PRESENTED AT THE DUTCH MINISTRY OF HEALTH
The Thematic Network Smart Healthy Age Friendly Environments was presented on the 12th of September at the Dutch Ministry of Health.
The working session was chaired by the Secretary-General. Willeke van Staalduinen presented SHAFE and the outcomes collected from the desk research, survey and interviews performed in the context of the Thematic Network. The presentation was followed by an inspiring discussion.
The Ministry is maintaining the articulation with the Thematic Network and will be receiving all the new updates that SHAFE produces, namely the draft Joint Statement for comments.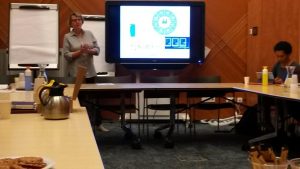 ---