Caregivers' Role on ICT for AFE – Public Discussion is now open!
It is now open the public consultation to collect feedback and recommendations to improve the result of the Collaborative Work between members of Action Groups C2 and D4 of the European Innovation Partnership on Active and Healthy Ageing (EIP-AHA) – Caregivers' role in Information and Communication Technologies (ICT) development and exploitation for Age-Friendly Environments (AFE).
The partnership invites all the community to provide comments and feedback to the Green Papertrough this online form until the November 2nd 2018.
The feedback collected will result in the White Paper, available until the end of the 2018, on the subject which will be the denouement of this collaborative effort.
The main objective of this Collaborative Work is to develop a four-step list of actions to be addressed during the life cycle of ICT development projects in order to maximize the engagement of caregivers at all stages of development until the product reaches the market and that can be used by different stakeholders during the development of new technological solutions and the validation of corresponding business models.
Your feedback will definitely contribute to highlight practices and recommendations to aware the society how rich is the participation of caregivers in the development process of ICT-based solutions for AFE, so the solutions could reach the market successfully.
For any other issue related to this Collaborative Work, feel free to contact Ana Luísa Jegundo –analuisajegundo@caritascoimbra.pt or Gil Gonçalves – gil.goncalves@inova.business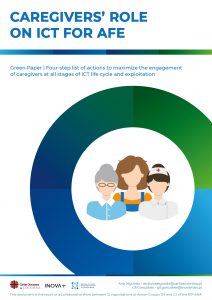 ---