Cáritas Coimbra to discuss ethics, data and privacy protection | AAL Forum 2019
Cáritas Coimbra will Chair workshop 29 – Ethics, data and privacy protection: who will take responsibility and how we proceed to a common framework for IT-AHA in Europe? In the AAL Forum 2019 – Aarhus, Denmark.
New ICT solutions aim to take care of people who are older, sometimes fragile and most of the time not tech-savvy. They make use of people's data to improve the technology in general and, on a personal level, to keep an eye on the users' wellbeing.
However, technology doesn't police itself.
Several technologies, namely in the health sector, are well framed in terms of data protection, ethical concerns and privacy, but many others are flourishing with no framework other than the GDPR and no adequate supervision. How can we make European policy to keep people using non-medical technology solutions 'safe' and raise their awareness concerning data and privacy so they can make 'safe' decisions themselves? Not to scare anyone, but to understand how the common citizen might be unaware of what's coming down the pipeline or already is in their house or work.
Raise users awareness, so they are able to make 'safe' choices themselves,  is one way to protect them, but it is also essential to reflect on policy making at a European level on the ethical framework.
In addition to previous experience in coordinating work related to ethics and deontology on issues associated to the introduction of robotics in daily life and data security and privacy, Cáritas Coimbra is also currently active in this area, within the scope of Smartwork project, funded by the European Union, under Horizon 2020. Throughout the project, an article has been developed that provides solutions to address ethical issues arising from the use of new technologies by older people in the work environment. The ethical questions raised during the course of the AAL projects DAPAS and Toilet4me will also be under discussion in specific round tables devoted to the challenges raised by the use of digital tools and equipment in the ageing course.
This session, which will take place on 25th at 4:00 pm at AAL Forum 2019 (Aarhus – Denmark, from 23-26 September).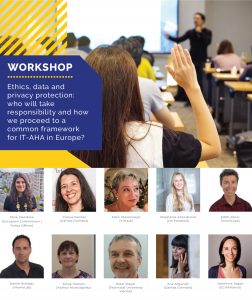 ---