Cáritas Coimbra presents paper at the 3rd Sheldon Conference meeting
Cáritas Coimbra presented a paper at the 3rd Sheldon Conference online meeting – "Solutions for aging well at home, in the community, and at work" on October 14. After participating in the EAI GOODTECHS 2021- 7th EAI International Conference on Smart Objects and Technologies for Social Good on September 16, 2021, Cáritas Coimbra was invited to present the paper to the Sheldon Community.
Ana Filipa Leandro, project manager in the Innovation Department of the institution presented the article "What do nurses and carers in Portugal wish and need from a digital intelligent assistant for nursing applications". This article, led by Cáritas Coimbra, was written in collaboration with other authors from Geriatrische Klinik St. Gallen and Bluepoint Consulting Srl, partners in the DIANA project (AAL and FCT).
The paper presents the results of the work done so far by Cáritas Coimbra and the partners of the DIANA project. It presents the methods used to integrate the needs of patients living with a cognitive impairment and their carers (nurses and formal carers) in the development of the DIANA system. DIANA aims to increase the autonomy of patients and support nurse and carers in their work, helping the care team to monitor the safety of patients, support activities of daily living, among others. This Digital Intelligent Assistant for Nursing Applications is composed of a sensor, the Milestone platform and a cell phone application.
The DIANA project is part of the AAL programme and is funded in Portugal by the FCT – Foundation for Science and Technology. The partners are Universidade Católica Portuguesa, Cogvis (project coordinator), Technical University of Vienna, Bluepoint consulting, EET Europarts and the Geriatrische Klinik st. Gallen.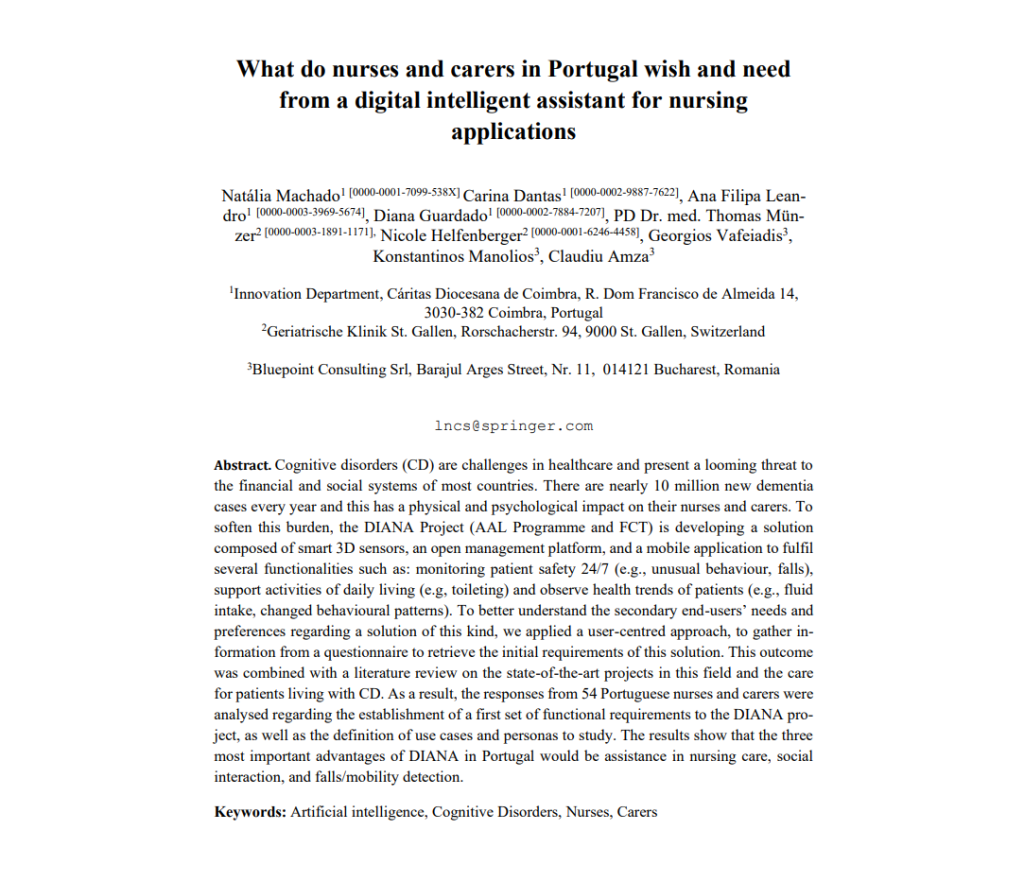 ---