Cáritas Coimbra participated in the 3rd inter-regional practice sharing meeting of the EU_SHAFE project
On 29 and 30 September, Cáritas Coimbra was in Aarhus, Denmark, to participate in the 3rd meeting for intensive sharing of good inter-regional practices of the EU_SHAFE project. Representing the institution were three elements of the Innovation Department, Andrea Campos, Flávia Rodrigues and Natália Machado.
This was the first face-to-face meeting since the start of the project and was attended by more than 20 partners and stakeholders of the EU_SHAFE project, from the Basque Country, Slovenia, Ireland, Portugal, Germany, The Netherlands and Denmark. The event was organised by two municipal employees from Aarhus: Anna-Karin Johannsen, project manager of the Assisted Living Technologies department and Benedikte Kruuse Lindvig, coordinator of the Public Private Innovation Fund for Assisted Living Technologies.
On the 29th, a representative from Aarhus municipality addressed the framework of health and care work and about the challenges the municipality faces due to the increasing number of older people, many of them affected by chronic diseases, and the problems associated with the shortage of care staff. It also showed how technologies can alleviate current and future needs among the municipality's older citizens.
Participants also had the opportunity to visit an exhibition hall in which to experience technological innovations. This is a space for experience, learning and innovation. Any citizen of the municipality can in this space receive advice and guidance to adopt suitable technological solutions and aids to support an independent and active life. This experience was very important for Cáritas Coimbra, in a perspective of understanding how it can boost the projects it implements and stimulate the adoption of new technologies by its older users.
In this same day, the good practices of the project in the field of Communication and Information were also shared. The physical presence of the partners in the room allowed an interesting and lively discussion with a series of comments and questions from the partners about the presented good practices, highlighting the value of knowledge sharing within the EU_SHAFE project.
The first day of work ended with a visit to SPARK, a living urban park, created through a co-creative and innovative process, open to the community.
On the second day, participants were divided into working groups to take part in a workshop on the creation and action plans of the impacts of the EU_SHAFE project. The partners briefly presented their policy instruments and the status of action plans under development.
This third intensive good practice sharing meeting represented a very fruitful occasion for all EU_SHAFE partners to learn about different approaches to local development, strategies to create value for citizens and get inspiration for future work at project level to implement in actions in their regions.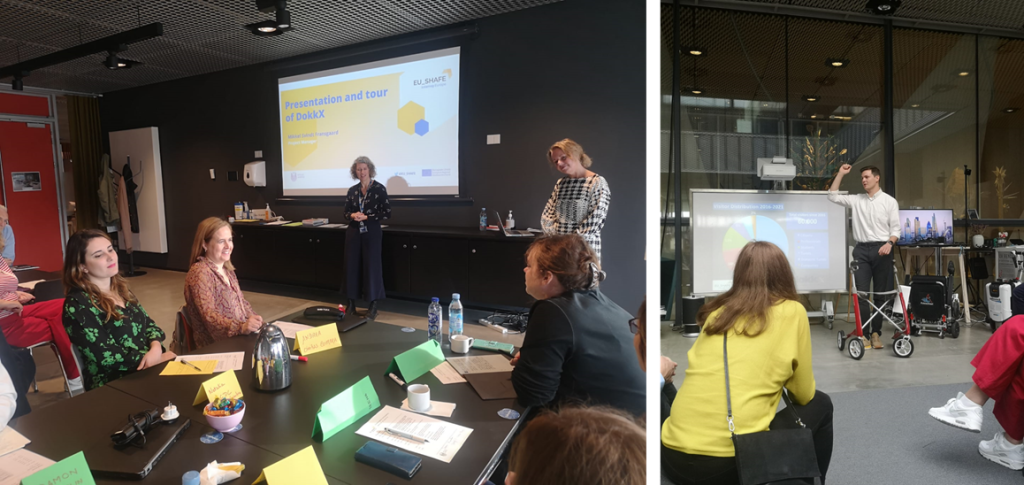 ---