AAL Programme issues new Ethical guidelines
The AAL Programme has published a new set of Guidelines for Ethics, Data Privacy and Security that addresses the AAL Framework of Excellence, including legal compliance, the ethical dialogue and some practical cases. Carina Dantas – Innovation Director at Cáritas Coimbra – led the team of experts that contributed to this work.
These guidelines are aimed at all researchers, developers, primary, secondary and tertiary end users, policy makers, start-ups and enterprise innovators in the AAL domain. It can support the successful adoption and use of their solutions, by integrating an ethical and basic legal perspective right from the development stage of products and services.
As technology is rapidly progressing, very often the final users of AAL solutions face difficulties, such as lack of digital skills or a sense of rejection towards new technologies. This means that gaps in information and communication about their rights and privacy need to be thoroughly addressed, throughout the complete cycle of development, from ideation to market launch and use.
Human-machine interaction needs to be designed to respond to the highest ethical, legal and privacy/data management standards and requirements. This is essential to protect the older citizens, but also to guarantee the viability of the business solutions, ensuring they are legally compliant and realistically matching the European and national regulations.
This new document provides reflections on how to set up ethical excellence for solutions targeting active and heathy ageing through digital technologies.
Read the complete document – AAL Guidelines for Ethics, Data Privacy and Security in http://www.aal-europe.eu/wp-content/uploads/2020/07/AAL-guideliens-for-ethics-final.pdf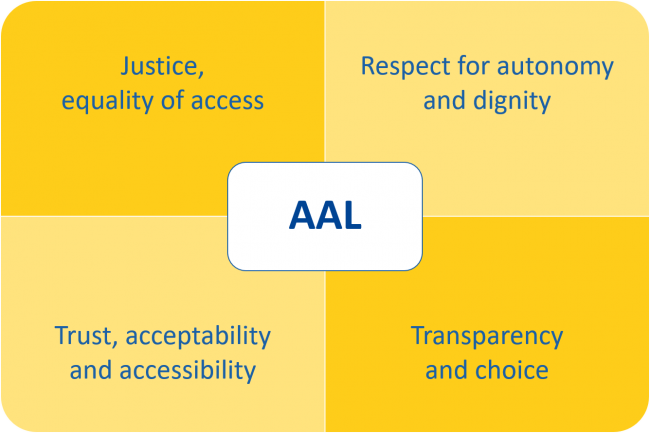 ---