The Sem Diferenças E7G project participated in the Escolhas: for Human Rights
The Human Rights reflect the basic human needs, without which one could not live a life with dignity, appeal to equality, respect, freedom and justice.
The Universal declaration of the Human Rights of the United Nations Organization (ONU), states that all humans are born free and equal in dignity and in right, endowed with reason and conscience, and show act with one another as brothers.
Every person, in each part of the World, has the right to the non-discrimination, to life, to freedom of expression, education, marriage and to build a family.
During the month of July, the project Sem Diferentes E7G, of Cáritas Coimbra, took part in the monthly challenge "Escolhas pelos Direitos Humanos" (Choices for the Human Rights) that aimed at drawing an illustration from one word.
The activity started with a brief introduction about the Human Rights and followed with a debate on which rights the attendees found the most essential to their daily lives.
After the debate a game was played in which different colored balls were spread out on an outside space. Each child and teenager had to catch a ball to form a team, bringing together participants with the same colored ball. After the teams were set, the team work began: a debate about the Human Rights (3 Random Rights) and to which a representative picture was chosen.
In the end each group presented and shares their arguments.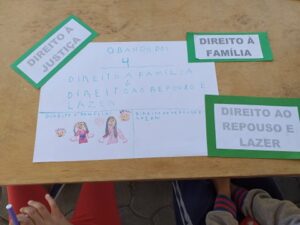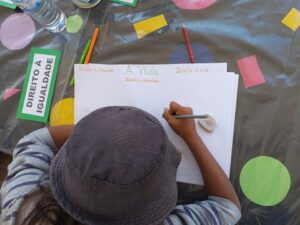 ---