SHAFE kick-off meeting in Brussels
Smart Healthy Age-Friendly Environments (SHAFE) is the new Thematic Network led by Caritas Coimbra and AFEdemy Ltd, that was approved by the European Commission for 2018.
The Network kick-off meeting was held on 10 April, at the European Commission premises in Brussels, and was attended by EC representatives and the coordinators of the 3 selected networks – besides SHAFE, also Societal Impact of Pain and Consumption of Fresh Fruits and Vegetables.
The SHAFE Thematic Network, in the words of its Coordinator, Carina Dantas, will aim to "discuss and facilitate the creation of healthy and friendly environments for all ages through the use of new technologies as a priority for the 2018 policy, towards the production of a comprehensive and participatory Joint Statement. In more concrete terms, it is intended to highlight the importance of People and Places in the creation of digital solutions for eHealth and mHealth, with quality but still accessible to all. What we want is to value the Person as a central element of this whole process of digitization".
Co-coordinator Willeke Van Staalduinen (AFEdemy) enforces that "bringing together the state-of-the-art experience and knowledge with eHealth and mHealth solutions in Europe will inspire local, regional and national stakeholders to realise a better quality of life of citizens and sustainable healthcare systems.
This Thematic Network aims at creating a high-level political alignment of various networks and initiatives for ageing issues. It is aligned with the EU's Health Priorities in creating synergies that will increase quality, innovation and sustainability for the implementation of better health and care systems, economic growth and sustainable health, in line with the Digital Transformation Project Health and Care. Cáritas Coimbra and AFEdemy intend to promote the participation of a wide range of national and international organizations in this discussion, namely representatives from groups D4 and C2 of the European Innovation Partnership on Active and Healthy Ageing (EIP-AHA), European Innovation Partnership on Smart Cities and Communities (EIP-SCC), Reference Sites Collaborative Network, European Covenant on Demographic Change, Eurocities, European Framework for Age-Friendly Housing, European Centre Social Welfare Policy, European Health Telematics Association (EHTEL) and ECHAlliance.
This proposal was presented as a strategic initiative for a joint declaration in 2018. Ten proposals were voted until December 7th in the European Union Health Policy Platform, SHAFE was the first selected and was confirmed by the European Commission following the results released last March.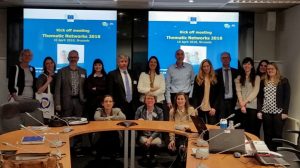 ---