NEW DATE! Join us for the second Webinar Thematic Network SHAFE | October 9 | 16:00 – 17:00 GMT
Second Webinar of the 2018 Thematic Network cycle by Smart Healthy Age Friendly Environments (SHAFE)
Joint Statement: sharing the results and asking for comments
The EU Health Policy Platform will host a live webinar, following this agenda: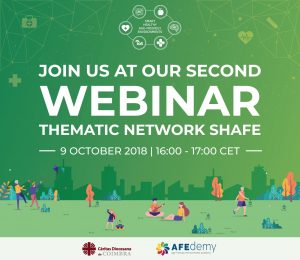 AGENDA
---
INTRODUCTION
Giulio Gallo, Deputy Head of Unit, Country Knowledge and Scientific Committees, DG SANTE C2, European Commission
SHAFE RESEARCH OUTCOMES
Survey, interviews and desk research
Willeke van Staalduinen, Co-founder AFEdemy
DRAFT-JOINT STATEMENT SHAFE AND RECOMMENDATIONS
Carina Dantas, Innovation Director, Cáritas Diocesana de Coimbra
Q&A AND SUGGESTIONS
The floor will be open for participants to interact, discuss the revisions and provide comments on the draft-Joint Statement and recommendations.
---
To join the Webinar, on October 9, click on the link.
You may need the password is "webinar2018" when you click the link.
The latest SHAFE news will be available on the EU Health Policy Platform news page and you can always follow us at www.caritascoimbra.pt/en/shafe
Participate and discuss all results about SHAFE with us!
For any issue related to the Thematic Network you can contact Carina Dantas – carinadantas@caritascoimbra.pt or Willeke van Staalduinen – willeke@afedemy.eu
---
Invitation_2nd Webinar TN SHAFE
---