Cáritas Coimbra participates in two sessions of the Conference of Partners in Brussels
The Innovation Department of Caritas Coimbra participated in two parallel sessions of the Conference of Partners in Brussels on 28 February.
This session was held between two working groups of the European Partnership – C2 "Development of interoperable solutions for independent living" and D4 "Friendly environments of all ages" – with Cáritas presenting two proposals for joint work between these groups, in order to create synergies and complementarity between the different areas of the European Innovation Partnership for Active and Healthy Ageing, with a view to promoting more complementary and inclusive initiatives.
Carina Dantas, in collaboration with Prof. Gottfried Zimmerman of the University of Stuttgart, proposed the definition of an ISO on User Privacy Preferences in solutions for an Active and Healthy Ageing, with the realization of a representative set of scenarios (use cases) and language and accesible interface to users with a lower index of digital literacy.
Ana Jegundo, in collaboration with Gil Gonçalves, from INOVA+, proposed a set of guidelines to promote a more active participation of (in)formal caregivers in the development of innovative technologies that are friendly to the older persons, and also in the analysis of the different possibilities of exploration technological solutions in the market.
Caritas de Coimbra also participated in the working session of the D4 group, Carina Dantas being one of the speakers and organizers of the session, under the theme "People and Places", contributing to the identification of the main guidelines of the respective action plan that will be renewal by the end of this year. Issues such as digital exclusion, alignment with the European strategy for a Single Digital Market or the promotion of strategies and solutions based on participatory and age-based approaches were discussed throughout the session.
The results of these discussions will be delivered to the European Commission to redefine the European strategy for active and healthy ageing to be implemented over the next two years.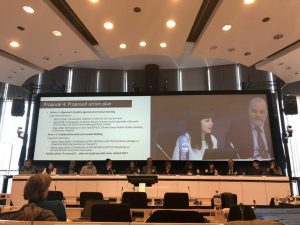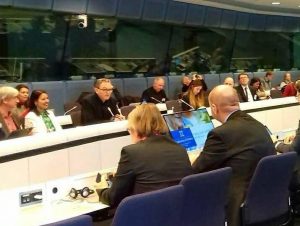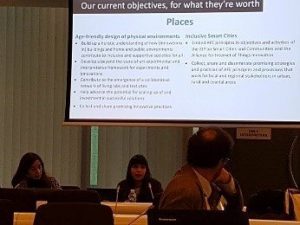 ---