Cáritas Coimbra discusses societal challenges in technologies and health at the European Commission
Caritas Diocesana de Coimbra was at the European Commission on the 26-27th February, in order to present and discuss its perspectives on the societal challenges that cannot be forgotten in the use of technologies and the collection of big data in health and eHealth, connected to frail and older adults.
During the Conference of Partners of the European Innovation Partnership for Active and Healthy Ageing (EIP-AHA), Carina Dantas, Director of the Innovation Department at Cáritas Coimbra, was one of the invited speakers at the Plenary Panel "Accelerating research based on data collection and personalized medicine for a more active and healthy ageing", which brought together about 700 people to discuss the future of support for older adults – you may watch the session video at https://youtu.be/MUZAXleGBZQ.
The main points advocated by Caritas were the urgency of investing in greater digital and health literacy of the population, so that people can choose the best forms of prevention and treatment throughout their life course; ensuring that people with less financial resources have guaranteed access to better health care, reducing inequalities in access to public and private services; the enormous need to ensure that ethical and moral principles are perfectly ensured when collecting personal and health data for medical research purposes in order to avoid misuse for commercial or financial gain.
The EIP-AHA Conference of Partners was dedicated to reviewing the Plans of the Action Groups and the Collaborative Network of Reference Sites, and especially how these plans are aligned with the European Commission's policy activities, namely the "Transformation of Health and Care in the Digital Single Market ". This event featured Commissioner Andriukaitis (Health and Food Safety) and Director General of DG Connect, Roberto Viola – https://ec.europa.eu/digital-single-market/en/news/conference-partners-european-innovation -partnership-active-and-healthy-aging-2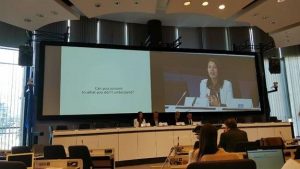 ---