Cáritas Coimbra and AFEdemy launched the White Paper on SHAFE at ICT 2018 in Vienna
Cáritas Coimbra travelled to Vienna, Austria, to participate in ICT 2018, a conference promoted by the European Commission and the Austrian Presidency of the Council of the European Union, which took place from 4 to 6 December.
On December 5, Cáritas Coimbra and AFEdemy organized a workshop on the Themathic Network SHAFE – Smart Healthy Age-Friendly Environments Thematic Network that they coordinated during the year 2018. The workshop was organised by Carina Dantas and Ana Jegundo of Cáritas Coimbra and Javier Ganzarain of AFEdemy. From the SHAFE Joint Statement, the next level has been presented with the drafting of a proposed White Paper for 2020.
ICT is a major event of the year and brought together citizens, members of the scientific community, policy makers and ICT enthusiasts to discuss the future of a digital Europe. The representatives of Cáritas Coimbra had the opportunity to meet new projects, carry out networking and promote the projects that are in progress.
Cáritas de Coimbra also had the opportunity to present some projects connected to the theme to the audience of the Conference, among which Toilet4Me – aimed at promoting the autonomy of older citizens through adapted sanitary facilities in public and semi-public spaces.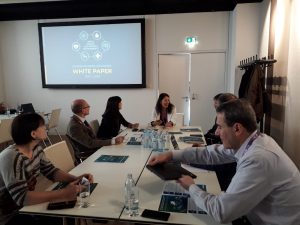 ---