Manual of Good Practices for Fall Prevention
Caritas Coimbra organised a public presentation, on the 27th September 2017, of the "Manual of Good Practices for Fall Prevention", an explanatory guide with the main reasons that cause falls among older adults and, above all, with guidelines and solutions to mitigate / avoid risks.
Developed by Anamélia Almeida, audiologist and main author, the manual has the collaborations of Anabela Mota Pinto, Faculty Professor of Medicine in the University of Coimbra (UC), of Paulo Nossa, also professor at the UC and Carina Dantas, from Caritas Coimbra.
The presentation featured, besides the authors, Luís Santos, researcher at the Higher Institute of Robotics (UC) that explained how this Manual was supported by the development of the GrowMeUp project (of which Caritas is a partner), and João
Malva, consortium coordinator of Ageing@Coimbra, who addressed the "Dissemination Strategies at the regional level", integrating this work in the reference site good practices.
News article: http://www.pt.cision.com/cp2013/ClippingDetails.aspx?id=a735d250-7a5b-43b0-ad9f-6fe852216579&analises=1&userId=254a1d4b-d842-47e3-9679-a3eb31f31bdc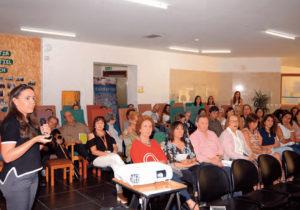 ---