Cáritas Coimbra starts a new European project on digital literacy
Cáritas Coimbra was in Athens, Greece, on January 19th and 20th, to participate in the kick-off meeting of the new Erasmus+ project, Digital Life Learning – DIGILIFE, which counted with the participation of other partners, namely Instituto Pedro Nunes, Fondazione Erasmus, Plataforma del Voluntariado de Espana, People Behind and Università degli Studi di Roma Tor Vergata.
Tthe Cáritas Coimbra's Innovation Department, participated in this meeting, where all partners actively participated, presenting responsibilities, plans, and roles for the fulfillment of the goals initially defined. This meeting was a good starting point in the planning of the strategies and actions necessary for the development of the project during the next 2 years.
DigiLife intends to develop a set of tools (toolkit) and training sessions to increase the digital skills of older adults, with the active collaboration of university students. The aim is to promote intergenerationality and, at the same time, to provide new experiences in a real work environment to young students. These knowledge-sharing experiences will be recognised through the attribution of credit units (micro-credentials), within the scope of digital literacy.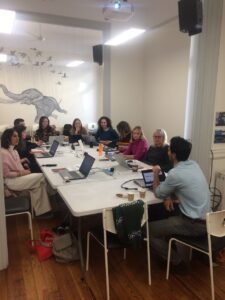 ---