Cáritas Coimbra promotes a co-creation session about the sustainability of food aid programmes
On December 15th, Cáritas Coimbra hosted an online co-creation event in the framework of the European Project SUST-AID. The event was held by the Innovation Department and had the participation of professionals working in different areas related to food aid programmes, namely a representative of the Fund for European Aid to the Most Deprived in Portugal, from CASPAE, and a Nutrition team, a representative of the Social Support Centre and a representative of the Social Canteen from Sol Nascente, all from Cáritas Coimbra.
The co-creation session aimed to obtain a vision of the needs of professionals and volunteers on the sustainability of the different food aid programmes, as well as explore the associated areas/themes and methodologies to be addressed by the SUST-AID training programme. It was a very rich session, through the sharing of perceptions, experiences and daily needs identified by the participants, in addition to suggestions for improvement of the different food aid programmes. Topics such as barriers and facilitators and reflections on its sustainability were addressed. According to one of the participants "(…) it is extremely important, along with food support, to have training in this area, so that we can have some strategies on how to manage food, in order to contribute to greater sustainability, micro and then macro (…)".
The SUST-AID aims to cover the current knowledge, training and skills gaps and needs by developing and evaluating a VET – Vocational Education and Training programme for the delivery of sustainable food aid programmes. For more information, you can access the project website.
It is co-funded by the European Union's Erasmus+ Programme and has the partnership of 6 European entities: Cáritas Coimbra (Portugal), Prolepsis Civil Law Non-Profit Organization of Preventive Environmental and Occupational Medicine (Greece), ISEKI-Food Association (Austria), CSI Center for Social Innovation LTD (Cyprus), The Polish Farm Advisory and Training Centre not for-profit Sp. z o. o. (Poland) and Federacja Polskich Banków Żywności (Poland).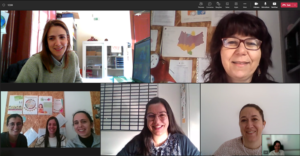 ---