Cáritas Coimbra attended the kick-off meeting of the AGAPE project
In the past 17th and 18th of February 2022, a meeting was held to launch the new AGAPE project that started in February and will last for 30 months. Representing Cáritas Coimbra were the collaborators Flávia Rodrigues and Elisabete Pitarma, from the Innovation Department.
The meeting had as objectives the presentation of each partner and the work plan for the whole project period, more specifically, a strategic plan for the 1st year of activity. Cáritas Coimbra presented itself as an organisation and showed the main responsibilities of the institution in the project, such as: co-creation with end users and definition of expected values as well as Ethics and Privacy Protection issues.
This project's overall objectives are to create innovative services to promote an active and healthy lifestyle for people over 65, to improve the quality of life of formal and informal caregivers, and to improve service delivery by care organizations. These goals will be operationalized through the use of technology from which will emerge the AGAPE platform and will later be implemented in the community through pilots that will take place in Portugal, Italy and Romania.
The AGAPE Project is a collaborative project of the AAL CALL 2021 program "Advancing inclusive health & care solutions for aging well in the decade" and funded by the Foundation for Science and Technology. It is led by MEDEA and brings together 8 partners, 5 of which are business entities, 1 research entity and 3 end-users, including Cáritas Coimbra.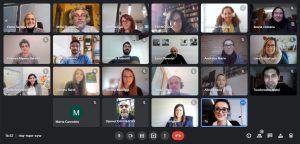 ---