Cáritas Coimbra concluded a project that reminded its users to perform tasks through sound buttons
For 9 months users, 65 years old or older, from Day Centers, Home Support and Residential Units belonging to Caritas Coimbra, participated in a study of adherence to treatment plans with the Klikkit system.
The Klikkit system aims to improve adherence to treatment plans, making older people more independent, but also relieving the workload of care professionals by monitoring task performance on an online platform.
The Klikkit system consists, for older people, of a tablet and buttons that, at programmed times, emit a sound and alert information to remind them of the tasks they have to perform. When the buttons ring, users are asked to reward them by indicating that they have performed the suggested task. For the caregivers, it consists of using an online platform that informs them whether the users have pressed the buttons. In this way, they can monitor whether the user has performed the suggested task.
From an overall perspective, the use by older people was positive:
It helped them to create and maintain routines:
"This system helped me to create routines and stay more active" – One of the tasks of this user was to perform short walks twice a day.
"I don't feel difficulties in performing my daily routines, but sometimes I forget. Sometimes in the winter, I sit and fall asleep and when the system rings, I wake up to take my medication." – The task in question is taking their evening medication.
It has helped them maintain routines that have improved their overall health:
"I am a nervous person and the system helped me stay more active and calm." – This user's tasks were to drink water and walk.
"I started drinking water more regularly and this helped me because I am on a diet to lose weight. I already feel better." – This user's activity is regular water drinking.
"I have kidney problems and this system has helped me to drink water more often. I haven't felt pain for quite some time now." – The system helped this user to drink water regularly.
This system has also been helpful for caregivers in the organizations. For example, in some Day Care Centers and in a Residential Unit, the Klikkit system was used with a button to remind all users to drink water at various times during the day. In this way, users have become more independent in performing this task.
More information about the Klikkit system can be found on its official website: Klikkit Home Care Solution | Easy & Effective Elderly Care (justklikkit.com)
Cáritas of Coimbra tested the system due to a subcontract and partnership with the company Hablab, coordinator of the project at a European level. This evaluation study was part of the activities of the research project – Klikkit – co-funded by the Horizon 2020 Program (H2020) of the European Union Grant Agreement ID: 959492.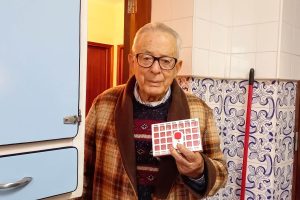 ---