TRIPLO D PARTICIPATED IN CARITAS EUROPA INNOVATION FESTIVAL
The Triplo D Project (Caritas Coimbra) participated in the Caritas Europa Innovation Festival on January 15th. This was an event organized by Caritas Europa in collaboration with Caritas Austria. With about 45 registrations from 23 countries, Triplo D was selected to participate in this Innovation festival, where Ana Goreti Oliveira represented the institution and shared some of her experiences implementing the project.
About 200 participants from 33 countries participated in the online event. 12 Innovation projects from different areas of innovation were presented: Innovative solutions to tackle COVID-19 pandemic, Business, International programmes, Empowerment and Community engagement. One of the main goals was to enable the sharing of positive and successful experiences and encourage the joint quest for new inspiring projects. Ultimately, they can be useful to further reinforce Caritas' efficiency.
The COVID-19 pandemic forced Caritas to "be even more flexible and innovative in its assistance", said the President of Caritas Europa, Michael Landau in the first Caritas Europa Innovation Festival. It was emphasised that Innovation will have a central role in the development of the new Caritas Europe strategy, whose aim is to promote and strengthen cooperation between Caritas organizations.
In stage 3, around 75 participants in attendance heard about Triplo D. This stage focused on innovation in the area of community engagement and participation. Other projects were also highlighted in this stage: "My right" (Caritas Armenia), Clay Coin (Caritas Slovakia) and RIBES (Caritas Italy). The main goal of the Triplo D project is to increase democratic involvement and civic participation by citizens, based on the links between democracy, demography, and human rights. The project is financed by the Active Citizens Fund in Portugal (2018-2024), within the scope of the European Economic Area Financial Mechanism – EEA Grants, managed in Portugal by the Calouste Gulbenkian Foundation, and the Bissaya Barreto Foundation.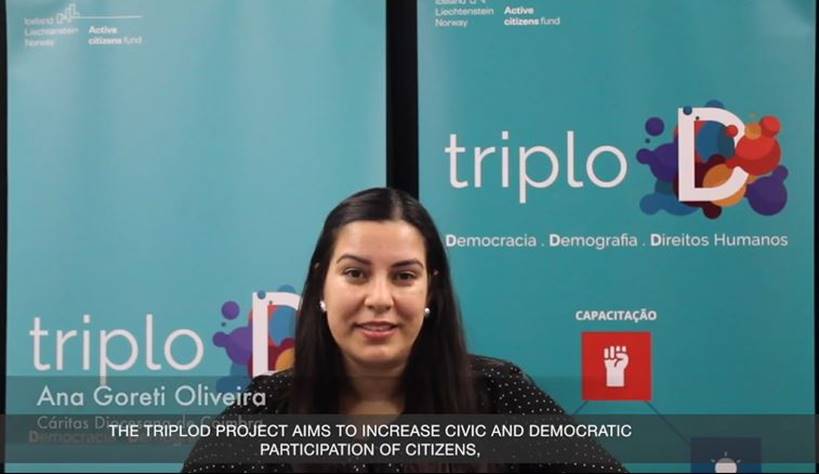 ---