Cáritas Coimbra carried out the Joint Short Term Staff Training with employees under the AVIK project
There were many limitations imposed on the AVIK project due to the COVID-19 pandemic. The Joint Short Term Staff Training for employees would take place in May, the month in which Cáritas Coimbra would receive the consortium partners in their city to attend another phase of the project.
That week, Cáritas Coimbra would promote training to transmit the three best practices of the project to its employees, so that they can implement it in different equipment's and welcome refugees, migrants and people of other ethnicities in the best way.
In the impossibility of carrying out this training before, Cáritas Coimbra brought together two collaborators from the area of ​​Sociology and Social Work to receive this knowledge and materials on good practices: "New Start"; "Dinner Club" and "Diversonopoly", which are intended to be reproduced with an educational use in order to instruct their target audience.
The manual "New Start" was presented, aimed at the development of adult educators and trainers, providing guidelines, techniques and training materials needed by refugees and migrants for an ideal integration into European society. Using this manual, in the classroom or in small meetings, allows participants to have a better understanding of European culture and values, the rights and duties and obtain information to facilitate inclusion in society and the labour market. Cáritas Coimbra's collaborators guaranteed that this will be a very important and essential material to share with users of the institution's social responses.
In the impossibility of playing "Diversonopoly" with people in a vulnerable social situation, a demonstration of the game was made with the collaborators of Cáritas Coimbra. Diversonopoly is a board game that promotes awareness and intercultural communication and mutual understanding between people of migrant origin (immigrants, refugees and asylum seekers) and locals in the "host country". In a fun and creative way, it facilitates the process of teaching migrants the language of the host country, and even another foreign language, bringing cultures between different countries closer together. Cáritas Coimbra will distribute the boards and cards that make up the game that will be put into practice as soon as possible.
The training ended with the "Dinner Club", a concept in which migrants or people of different ethnicities, cook for other migrants and local residents, while locals can also cook. Net resources (based on donations) are used for a social initiative (for example, shoes for refugee children in the region). Diving into a foreign culinary world, intercultural exchange between guests and cooks (refugees, asylum seekers and people in precarious living conditions) is promoted, learning informally, for example, languages, cultures and gastronomies.
All initiatives were very well accepted and Cáritas Coimbra's employees expressed the desire of sharing all the materials and information with the teams, users and put the concepts into practice.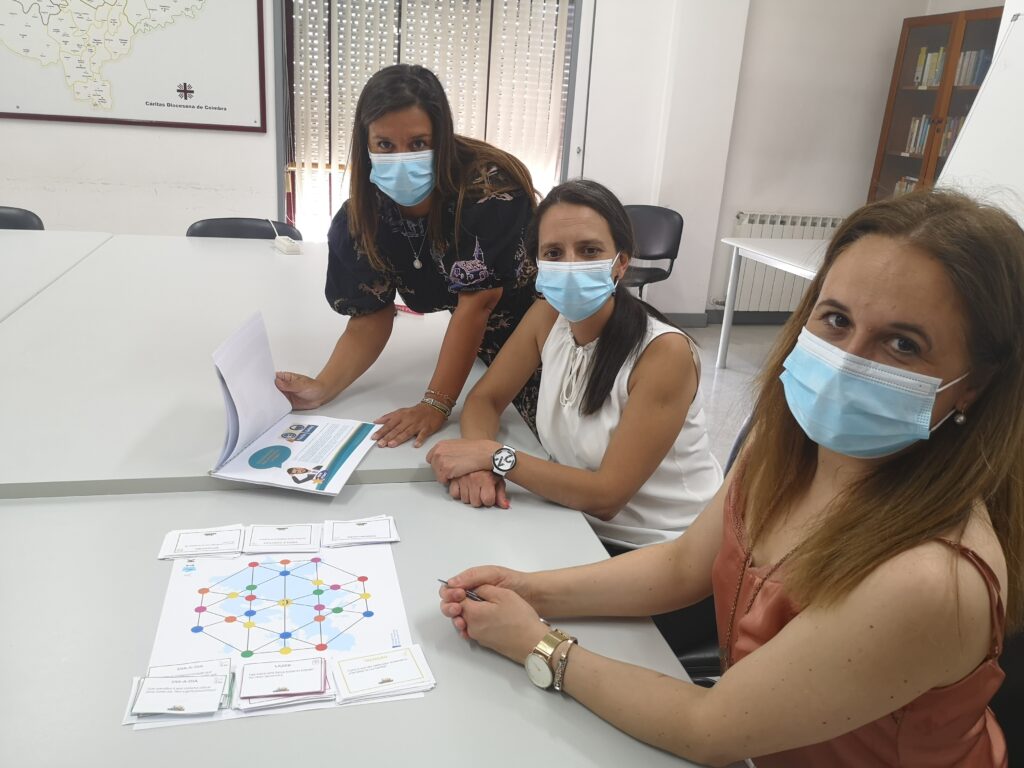 ---