Smartwork was disseminated at the international congress "Intervention in health and well-being"
The Smartwork project was disseminated by Cáritas Coimbra at the International Congress "Intervention in Health and Well-being". The institution holded a communication in this event that runned from May 31 to June 1 at the University Campus of Viseu of the Piaget Institute.
Represented by Carina Dantas, Director of the Innovation Department, Cáritas Coimbra participated in session 3 on June 1 – "Health and Well-being of an increasingly ageing society", with a communication on the institution's strategy for social innovation, in a medium and long-term perspective, especially with regard to demographic and longevity challenges.
One of the initiatives in focus was the SmartWork project. Funded by the European Union under Horizon 2020, the Smartwork project aims to develop and validate innovative digital solutions so that older workers can remain actively involved in working life by helping them to renew their work skills and to adopt healthier lifestyles, considering any age-related health conditions.
The Congress intended to contribute to the discussion of current and emerging issues related to health and well-being of the population and was attended by researchers and professionals from different areas of activity, diligently organized by the Piaget Institute of Viseu.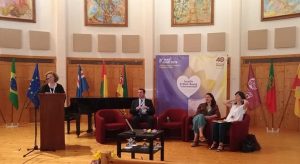 ---