Cáritas Coimbra will participate in the Broadband Days 2019 conference
On December 3rd, Cáritas Coimbra will attend the B-Day: Boosting Connectivity Investments conference, which will take place at the Broadband Days 2019, the European Commission's annual event in the area of Broadband implementation in the European Union (EU). The meeting will take place at the Albert Borschette Congress Center, in Brussels.
The B-Day conference will aim to present the latest developments in European Union broadband initiatives and their implementations. It will also encourage discussion on leading edge technologies, business models and finance, aiming to identify ideas and synergies between sectors.
Carina Dantas, Cáritas Coimbra's Innovation Department Director, will be part of the "Making sense of connectivity" Panel. In her intervention, she will address how connectivity, digital tools and free internet access can contribute to social inclusion and health improvement. In this context, she will also present the need to integrate countries and municipalities, including smaller cities and low-density territories, in the network of broadband investment. On the use side of digital tools, it will be demonstrated the importance of creating a legal and ethical certification framework for non-medical device digital tools to ensure that less educated or more frail people are not "deceived" or misled when using digital support without supervision.
Also in the context of the theme of the conference, Carina Dantas will present the SmartWork project, funded by the European Commission under the Horizon 2020 and aims to develop and validate innovative digital solutions so older workers can remain actively involved in their working life by helping them to renew their work skills and adopt healthier lifestyles, considering any age-related health conditions.
The meeting will also debate how 5G corridors bring leading edge connectivity across the EU for a more resilient, sustainable and cost-effecient infrastructure, enabling new concerted actions amongst the transport, energy and digital sectors.
As with the latest editions, the night before this conference will be held the 2019 Broadband Awards, recognizing the best connectivity practices across Europe, which will then be presented at the B-Day Conference itself.
Read more about the B-Day: Boosting Connectivity Investments conference and see this event's agenda.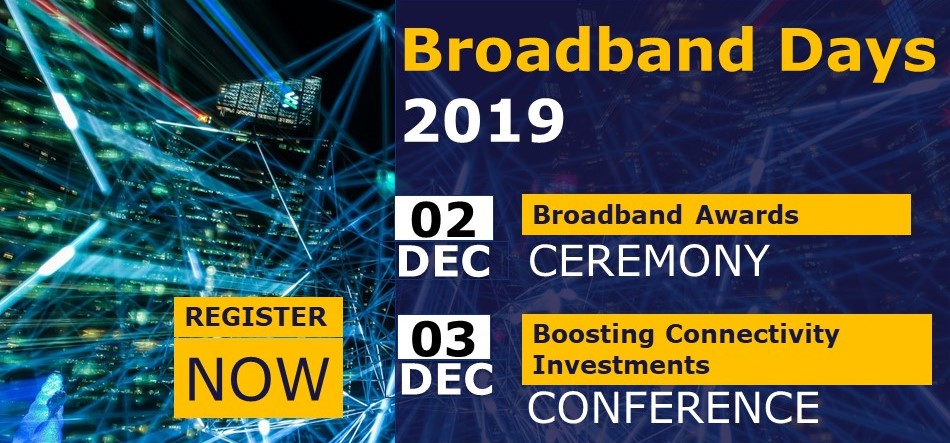 ---