SHAFE Joint Statement open for comments. Get Involved!
Caritas Coimbra and AFEdemy are coordinators of the Thematic Network SHAFE – Smart Healthy Age Friendly Ambientes, , approved by the European Commission for 2018 and already has more than 110 partners.
The Joint Statement of the Network will be presented in Brussels on 12 November at the EU Healthy Policy Platform meeting. The final comments can be made until October 28, before the final version is sent to the European Commission.
This Joint Statement is the  result of all the research developed during the Summer of 2018 and the valuable inputs provided through survey answers and personal interviews. This work results in the main areas of recommendation presented in this Joint Declaration.
You can consult the latest versions of the Joint Statement and the SHAFE Thematic Network Framing Paper, for consultation and to participate with possible comments.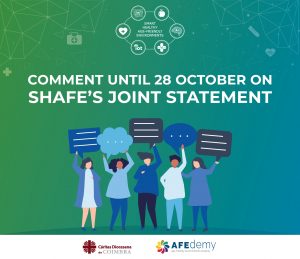 ---