Thematic Network SHAFE presented in Manchester (UK)
The Thematic Network on Smart Healthy Age Friendly Environments (SHAFE) was presented by Willeke van Staalduinen (AFEdemy) during a combined session of Eurocities and Action Group D4 of the European Innovation Partnership on Active and Healthy Ageing (EIP-AHA), last July 3rd, in Manchester.
For two days, more than 50 participants gathered in the UK to discuss age-friendly environments and best practices on the delivery of participative and inclusive services for all ages. Within this context, it was highly relevant to present SHAFE and discuss the mid-results of the research developed in the last months, collecting inputs to the framing paper of the network.
The main objective of SHAFE is to deliver a Joint Statement to the European Commission (DG SANTÉ/DG CNECT) regarding the alignment of technological development with the built environment according to the needs and expectations of users to enable them to age in place. The specific focus of 2018's work is on the development of eHealth and mHealth solutions for people with chronic diseases and/or impairments who live independently, with special attention on quality and costs.
SHAFE is coordinated by Cáritas Coimbra and AFEdemy and already consists of more than 80 partner organisations and networks (July 2018).  Organisations and networks are still welcome to join the Thematic Network: https://en.caritascoimbra.pt/shafe/i-want-to-join/. For 2019, the Thematic Network  is expected to evolve into a Stakeholders Network and will produce a WHITE PAPER on SHAFE for all.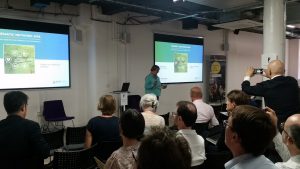 ---