Cáritas Coimbra presented SHAFE's Joint Statement to the European Commission in Brussels
Cáritas Coimbra participated as a speaker at the Annual EU Health Policy Platform Conference, organized by the European Commission, in Brussels on 12 November.
Carina Dantas, of the Innovation Department of Cáritas Coimbra, was a speaker at the Roundtable "The role of Stakeholders in EU Health Policy", where she discussed with the Directors and Advisors of the European Commission John F. Ryan, Isabel de la Mata and Philippe Roux, the role of the different actors in the construction of European Union policies.
Later, at the same event, she shared with Willeke van Staalduinen of AFEdemy the presentation of SHAFE's Joint Statement, communicating to the European Commission and the various present stakeholders the recommendations made for the implementation of Smart, Healthy and Age-Friendly Environments in Europe, resulting from the research carried out during 2018, as well as the contributions gathered through survey responses and personal interviews with opinion leaders. See the full schedule of the meeting.
During 2018, Cáritas Coimbra and AFEdemy are the coordinators of the SHAFE's Thematic Network – a network approved by the European Commission under the theme Smart Healthy Age-Friendly Environments. This network involves as partners 10 large European networks and more than 100 organizations from across Europe who brought contributions, comments and support of hundreds of stakeholders.
Cáritas Coimbra took advantage of this event to disseminate the DAPAS project, its ambitions in terms of results and experiences for the end users, as well as the sharing of experiences and good practices among the partners present.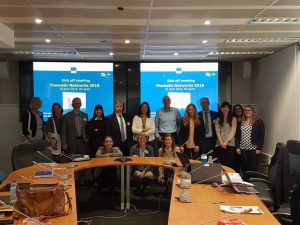 ---