Consortium and Mid-Term Review of the AAL4ALL Project
On the 3rd, 4th and 5th of April, iHomeLab, in Horw (Luzern, Switzerland), hosted the AAL4ALL project partners for another Consortium Meeting and the Mid-Term Project Review. Cáritas Coimbra was represented by project manager Ângela Pinto.
During this 3-day meeting, partners prepared for the interim evaluation of the project and together reflected on how the project can contribute to AAL objectives, by improving the quality of life of older people and their networking, supporting care systems and contribute to the AgeTech in Europe.
On the technological side, the solution is now ready for pre-tests by the end-user organisations before being deployed to 70 testing homes in Portugal, Denmark, Switzerland and Romania.
The AAL4AL solution – "From Smart Home to Care Home" aims to enable active older adults to stay independent for longer in their own homes by introducing non-stigmatizing, and affordable technology through the facilitation of caregivers.
Curious? Get to know more about the project here: https://aal4all.com/
AAL4All is co-funded by the European Programme AAL (Active Assisted Living – ICT) and, in the Portuguese case, by the Foundation for Science and Technology.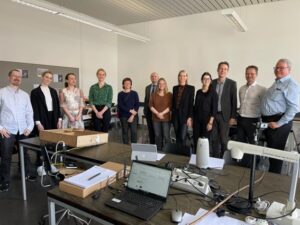 ---