Triplo D Project recognized by the United Nations as a good practice
The United Nations (UN) launched a 2nd Open Call for good practices, success stories and lessons in the implementation of the 2030 Agenda and the Sustainable Development Goals (SDGs) from December 2020 to March 2021. A team of experts from UN entities reviewed more than 700 proposals from around the world. The Triplo D Project, implemented by Cáritas Coimbra, was one of the good practices approved by UN experts: https://sdgs.un.org/partnerships/triplo-d-project.
This is a project financed by the Active Citizens Fund in Portugal – EEA Grants, which is operated in Portugal by the Calouste Gulbenkian Foundation and the Bissaya Barreto Foundation.
The Triplo D Project aims to increase and strengthen the democratic involvement and civic participation of citizens, by working on the links between Democracy, Demography and Human Rights. Since 2019, it has developed several activities, such as education/training sessions and school and community discussion groups, seeking to educate and empower different target groups, from preschool children to older adults (65+). This is a project that has enhanced the discussion and exchange of experiences within communities, bringing all citizens independent of age groups and socio-economic context to debate topics transversal to all generations and relevant to the whole community.
The COVID-19 pandemic brought challenges and new opportunities, therefore it was necessary to create a set of unforeseen alternatives that would allow the fulfilment of the project's goals. The responses and strategies adopted by the project helped to maintain the connection with the target groups in a phase marked by social distancing and social isolation. The pandemic also brought about some opportunities that extended the project's intervention to broader audiences, for example, in webinars open to all publics. These activities helped to overcome the challenges posed by the pandemic all the while maintaining a close (online) presence in time were social distancing was mandatory.
Find out more about the SDG Good Practices Initiative here: https://sdgs.un.org/sdg-good-practices
Access the outcomes of the 2nd Open Call here: https://sdgs.un.org/partnerships/good-practices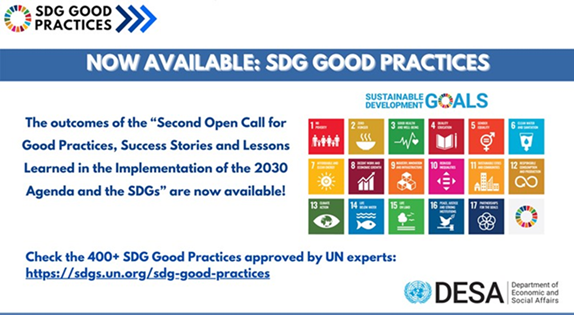 ---