Cáritas Coimbra users are trying buttons that remind them to drink water or take medication
In a continuous commitment to improvement and innovation in the services provided to its users, Cáritas Coimbra has been working on several national and international projects. It is now testing, among older citizens who enjoy the social responses of Day Care Centre and Home Care Services, a set of programmable buttons tailored to each user, so that they do not forget the tasks they have to perform daily. This is the Klikkit project. 
The Klikkit solution is designed to improve the adherence to therapy of older users by making them more independent and, as a consequence, relieving the burden of healthcare professionals in monitoring, counselling and care delivery. The system consists of three buttons and a tablet that remind the wearer of water intake, medication or other daily tasks such as going to dinner or getting out of bed. 
This research will cover 100 users of Cáritas Coimbra and, like projects already implemented, the participants will be divided into two groups: the intervention and the control groups. The 100 people will be monitored in these tasks by their usual caregivers, but only 50 will try these new technological devices. In the end, it is intended to make a comparison about the effectiveness of these buttons and their reminders, compared to the autonomy of these people when doing these three activities, without any kind of technological stimulus. The expected result, in general, is the increase or at least the maintenance of the autonomy of the older adult. 
Klikkit is already in progress and the people who have received the system ensure that it is very useful. One of the 84-year-old users has two of her buttons programmed to drink water and take her medication before going to the Day Care Center. "Sometimes I'm still in bed and I hear the button ringing and I already know that I should get up to take my medication." The user reinforces his statement, saying that it is a very useful system and even thinks it could be used by people of any age who should also be reminded of the importance of drinking water, for example. 
Cáritas Coimbra is testing the system due to a subcontracting and partnership with Hablab, project coordinator at European level. This evaluation study is part of the activities of the research project – Klikkit – co-financed by the European Union's Horizon 2020 (H2020) Grant Agreement ID: 959492.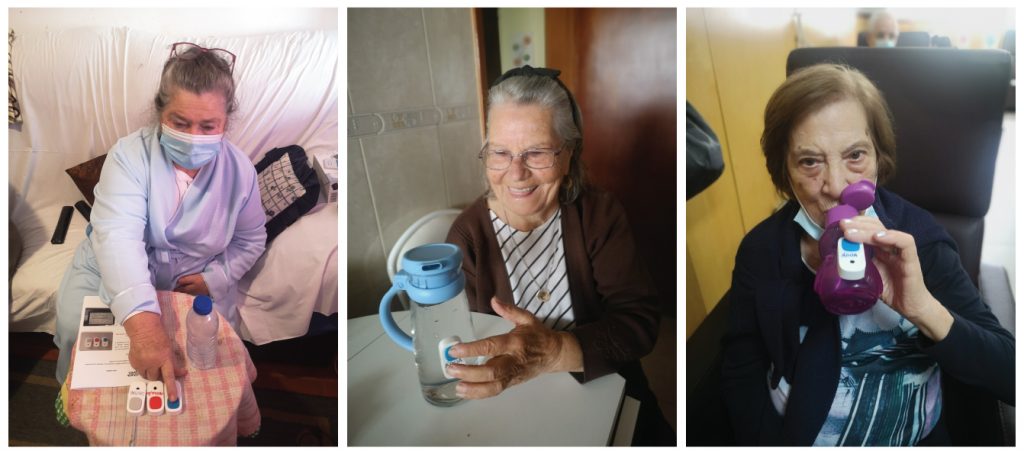 ---