SHAFE Network participates in an EIP on AHA Thematic Workshop
Carina Dantas (Cáritas Coimbra) will represent the SHAFE Network, (coordinated by Cáritas Coimbra and AFEdemy)  by participating as a speaker in one of the Thematic Workshops of EIP on AHA – European Innovation Partnership on Active and Healthy Ageing – that will be held on 19 November, 11:00-13:00CET.
The workshop's theme is "Reference Sites stimulating the development and implementation of Action Group commitments to achieve sustainable digital health and care transformation at scale regionally, nationally, and internationally". Organized by the Campania Reference Site, the workshop will bring together regions from different European Union countries such as Italy, Portugal, and Spain, to present successful regional and national models, which represent the quadruple helix framework.
 Carina Dantas (Cáritas Coimbra) and Willeke van Staalduinen (AFEdemy) will share their experiences as SHAFE's Network Coordinators – Smart Healthy Age-Friendly Environments- with Javier Ganzarain (SAFE), Lisa Leonardini (ProMIS) and Nicola Filizzola (AAL) in the round table "Facilitating factors: Network experiences". Marc Lange (EHTEL) will moderate the session. The SHAFE Stakeholder Network promotes the coordination of policies and the implementation of solutions that combine health, social support, information technologies (ICT) and built environments.
 For those who are interested in attending the workshop, you can register here https://ec.europa.eu/eusurvey/runner/ThematicWorkshopRegistration. Participants enrolled at the online workshops will receive all details one week before the event.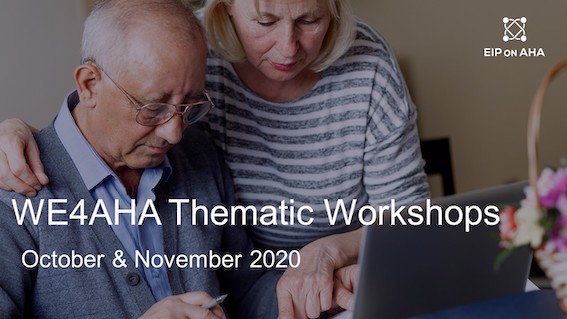 ---