Cáritas Coimbra project is covered in a television program in Spain
It was on February 1st that the La 2 channel, from the Spanish public television – TVE, introduced the GrowMeUp project to its audience. The Cáritas Coimbra project was presented as an example of technology that was developed to help older people in their daily lives.
Cáritas Coimbra received, at the facilities of the Rainha Santa Isabel Centre, the production of the La 2 program – La cuarta revolución, which thus had the opportunity to meet Ambrósio – one of the robots developed in GrowMeUp – and to see how it interacts how it can support its users. This technological project was tested between 2015 and 2018 and aimed to develop an innovative robot for ambient assisted living environments (the GrowMu robot) that could support the needs of 65+ citizens in their daily life activities, compensating the constant deterioration of the cognitive ability and ensuring the service provision and quality of life throughout the ageing process. To determine the effectiveness of GrowMeUp, a group of end users from Cáritas Coimbra actively participated in the development and improvement of the system. The project involved 8 partners from 6 different countries, led by the University of Coimbra, and was funded by the European Union through the Horizon 2020 programme.
La cuarta revolución program is a series of documentaries, consisting of a total of seven episodes, which explains in a succinct and entertaining way how technology will determine the future of society and how (already) it can contribute to improving people's daily lives, especially those who have a disability. In Episode 4, which took place on February 1, the program addressed advances in the world of robotics and their impacts on the lives of people with disabilities. In addition to GrowMeUp, projects from San Francisco, Boston, Barcelona, Madrid, among others, were presented.
Today we live in the era of robots. What ends up scaring some citizens, who have several fears, from the extinction of jobs to the "end of humanity". This documentary demystifies these fears, demonstrating that robotic technology, if used well, can help society to evolve.
See the full documentary "La cuarta revolución – Episode 4" HERE (12m14s-15m05s: GrowMeUp) – not subtitled.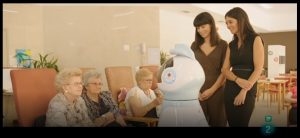 ---