PlatformUptake.eu | Cáritas Coimbra project to support the European Commission in the area of Ageing
Cáritas Coimbra was in Vienna, Austria, on January 15th and 16th, as partner in the kick-off meeting of the PlatformUptake.eu project, a coordination and support action to the European Commission for digital platforms to support Active and Healthy Ageing.
Ageing presents one of the greatest socioeconomic challenges of the 21st century, with more than 20% of Europeans expected to be 65 or older in 2025. To respond to the demographic changes with the necessary structure and resources, the European Union has made several ICT projects viable, creating a considerable number of "open source" platforms for the development of innovative solutions in the field of active and healthy ageing.
PlatformUptake.eu intends to analyse and describe the ecosystem of these platforms, promoting synergies between the respective networks and related projects in the AHA (Active and Healthy Ageing) and IoT (Internet of Things) domains. Through the creation of an online information hub, it aims to assess the societal impact of the existing platforms, to create monitoring and evaluation tools, to collect successful user stories and best practices, to promote interoperability and to define common guidelines for the large-scale uptake of these platforms.
At this first official meeting of the consortium, in which the project was launched, Cáritas Coimbra was represented by Carina Dantas, Director of the Innovation Department. Over these two days, all participants had the opportunity to discuss the content and development of PlatformUptake.eu and, together, defined the tasks and the contribution of each partner.
PlatformUptake.eu is funded by the European Union's H2020 programme, being developed in partnership by 12 entities: Cáritas Coimbra (Portugal), Italian National Research Council (Italy), Fraunhofer (Germany), Technical University of Madrid (Spain), Institute of Communication and Computer Systems (Greece), Jožef Stefan Institute (Slovenia), AFEdemy (Netherlands), Linköping University (Sweden), University of the Balearic Islands (Spain), Stichting Smart Homes (Netherlands), Etablissements A. Lievens Lanckman (Belgium) and SYNYO GmbH (Austria), who is the project coordinator.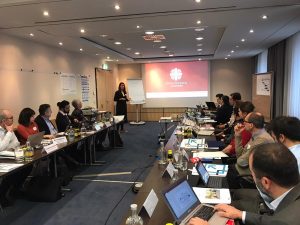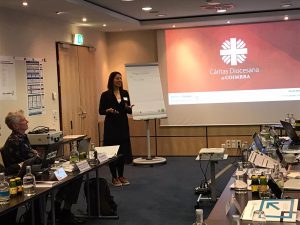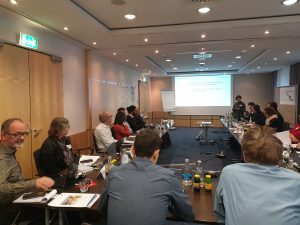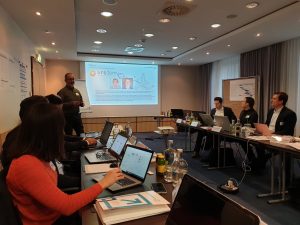 ---