Cáritas Coimbra hosted the 3rd meeting of AAL Forum 2019
Cáritas Coimbra hosted the 3rd meeting of the AAL Forum Organizing Committee 2019, which took place on April 11 and 12 at its headquarters.
The Innovation Department recived the partners of the Committee and jointly conducted the evaluation of the proposed workshops, the planning of the Program and of the upcoming meetings.
The Active and Assisted Living (AAL) Forum is an annual conference that presents the latest technological advances for the ageing of the population, from robots and games to applications and sensors, products that focus on quality of life, greater independence and socialization and sustainability of the social and health system. It brings together, on a single occasion, participants who develop the technology, those who use it and those who invest in it, making it one of the largest and most important European events in this area, which will take place between 23 and 25 September in Aarhus – Denmark.
Caritas Coimbra is participating in the organization of the event in 2019, being present at the scheduled meetings for this purpose, through the representation of Carina Dantas, Ana Luísa Jegundo and Flávia Rodrigues.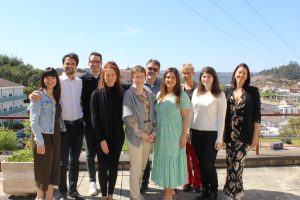 ---