Cáritas Coimbra discusses partnerships at the 7th Value Conference of the Portuguese Association of Hospital Administrators
Cáritas Coimbra participated as a lecturer at the 7th Valued Conference of the Portuguese Association of Hospital Administrators (APAH) on 19th October, in Braga.
Under the theme "Redesign healthcare services focusing on people's needs", Carina Dantas, Cáritas Coimbra's Director of Innovation Department, held the lecture that gave the round table a discussion on the importance of developing and consolidating partnerships with community and economic entities. This presentation shared the work developed by Cáritas Coimbra in its various fields of intervention, particularly in the health field and how the consolidation of partnerships is extremely important for the proper response to people's needs. It also highlighted international best practices in integrated care, as the English NHS and the good Portuguese examples, such as the UnIESA (Coimbra University Hospital Centre) and ReHab (Cáritas Coimbra) projects.
The session was moderated by Carlos Alberto, President of the Tâmega and Sousa Hospital Centre, and had an interesting debate with a panel of commentators that included Elsa Frazão Mateus from EUPATI Portugal, Ema Paulino from the Order of Pharmacists, Franklim Ramos from the Alto Minho Local Health Unit and Pedro Nunes of the West Lisbon Hospital Centre.
It was discussed the importance of developing strategic partnerships with the various actors in the community and economic sector to ensure health care reform. At the same time, were analized the challenges and opportunities currently being posed at national level in governance, strategy and operationalization for the implementation of solutions that improve the services provided to users, as well as the perspectives of the level of commitment of the various agents of the sector for this accomplishment.
"Management models centered in citizen and community" was the central theme of this conference, which took place on 18th and 19th October. On the first day, the winners of the 6th edition of the Healthcare Excellence Award were announced, which awards the best health services management initiatives implemented during 2018. It is already for the third consecutive year that this conference cycle is being held, attended by representatives of the boards of directors of the Portuguese Nacional Health Service and many responsible for intermediate management. The project emerges as "a bet on the organization of initiatives that promote the creation of value for health managers, through the analysis of current and determinant topics for the future of hospitals and health systems".
Watch the video of Cáritas Coimbra's participation in the APAH Conference.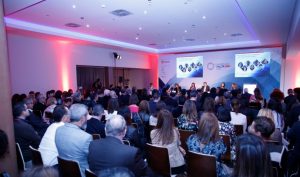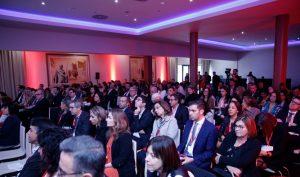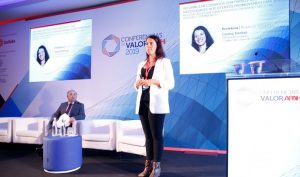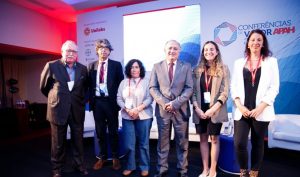 ---