Cáritas Coimbra will discuss financial models for care at the AgeingFit 2019 International Conference in Lille – France
"Which role should public health payers and private insurers play to address the consequences of the ageing demographic trend in Europe?". Is the theme of the debate that Cáritas Coimbra, represented by Carina Dantas – Director of the Department of Innovation, moderated at the 2019 AgeingFit Conference, which will take place on January 29 and 30 in Lille, France.
As longevity rises, a growing population is likely to experience a decline in capability and independence, with increased demands for health and social care services. The consequences of ageing demographic trends in Europe appear to create societal as well as financial challenges and raises several issues.
How to manage the necessary formal and informal care, services and health care costs to assist older and dependent people? Which part to be played by public health payers and private insurers?
Through feedback and discussions from different countries, this plenary session will review the ongoing experimentations and systems developed in Europe to manage the implications of the old-age dependency ratio.
Cáritas Coimbra will take advantage of this event to disseminate the project Smartwork, a project funded by Horizon 2020 with the objective to design and test friendly environments for workers over 55.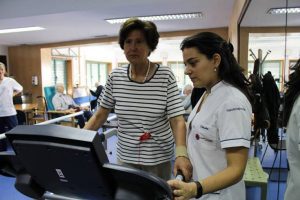 ---