Cáritas Coimbra attended Geriatrics Meeting 
Cáritas Coimbra was present at the 4th Edition of the Geriatrics Meeting, whose theme was the "Different Perspectives of Active Ageing". The meeting took place on October 31st, in the Auditorium of the Municipal Library of Penacova.
Sofia Ortet, from Cáritas Coimbra's Innovation Department, participated as a speaker at the Panel that discussed the Past, Present and Future of Geriatrics. In her speech, she addressed the role of healthy, intelligent and friendly environments in active ageing, as well as its operationalization in various projects of Cáritas Coimbra, such as the Smartwork project, co-financed under the H2020 to promote healthier work environments for citizens 55+ and providing for a wide range of concertation activities with national and international initiatives.
The Institution has extensive experience in this area, through the national and international projects in which it is involved and also the Networks it integrates, namely the SHAFE International Network and the Portuguese Network.
The SHAFE Stakeholder Network is coordinated in partnership with AFEdemy. This Network, approved in 2018 by the European Commission under the theme Smart Healthy Age-Friendly Environments, involves around 170 organizations from across Europe as partners. The objective is to align technological development with the construction industry in terms of policies and financing, coupled with a more efficient, better quality integrated health and social support system.
At the national level, the Portuguese Network on Smart, Healthy and Age-Friendly Environments brings together a wide range of Portuguese organizations committed to the promotion of a joint agenda for the implementation of Inclusive Environments for all ages, with particular focus on Health, Social Support, TICE and Infrastructures. The consortium actively seeks to promote collaboration between research/academia, public authorities, business and civil society/citizens with the aim of addressing and finding common solutions to national challenges in this area.
The Geriatrics Meeting was promoted by the Penacova Social Network, with the organization of the Penacova City Council, AD ELO (VirtuALL project) and Miro GSSDCR. The main objective of the session was to promote a space for sharing and reflection focused on the challenges that the community, in general and professionals, in particular, face every day.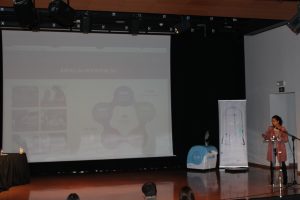 ---