Cáritas Coimbra and SHAFE in the Organizing Committee of the European Conference on Ageing and Gerontology (EGen2019)
Cáritas Coimbra, represented by Carina Dantas, as Innovation Director and Coordinator (with AFEdemy), of the Stakeholders Network on SHAFE (Smart Healthy Age-Friendly Environments), is part of the Organizing Committee of the European Conference on Ageing and Gerontology (EGen2019), which will take place on 7–8 December, 2019.
Cáritas Coimbra has recognized the great social challenges brought by the demographic changes and has promoted, over the last years, with Portuguese and international stakeholders, multiple networks and projects around the theme of active and healthy ageing, with the opportunity to introduce disruptive innovations and job creation, taking advantage of the increasingly evident demographic transition.
The EGen2019 Conference, affiliated with the Asian Gerontology Conference, organised in Japan since 2015, will be held for the first time in London, Bartlett and brings together all disciplines to comprehensively discuss one of the biggest challenges facing humanity today: the ageing of the population. Everyone will be welcome to bring their perspective since ageing involves the multidisciplinary universe of the humanities, science and politics.
For this global challenge, EGen is creating also a global event, joining efforts with Osaka University and specifically the IAFOR Research Centre, with the National Archive of Computerized Data on Ageing (NACDA) at the University of Michigan, USA and with the support of academic and intellectual leaders from all disciplines and numerous prestigious institutions.
The EGen2019 Conference features honourable attendances and keynotes by Professor Hiroshi Ishiguro (Osaka University, Hiroshi Ishiguro Laboratories), Professor James Barlow (Imperial College London, UK), Professor Paul Higgs (UCL, UK) and Professor Nick Tyler (UCL, UK) as well as highly prominent academics. Like at the Bartlett Real Institute, UCL believes that it is through people coming together that great things happen, and in that sense multiple networking opportunities have been created: welcome reception and conference dinner, high volume of thematic streams, multiple disciplines such as built environment, frailty, loneliness, silver economy, etc…
EGen2019 offers a great opportunity for all researchers to increase new contacts and expand their knowledge of relevant topics covered at theConference.
Learn more about the conference at: https://egen.iafor.org/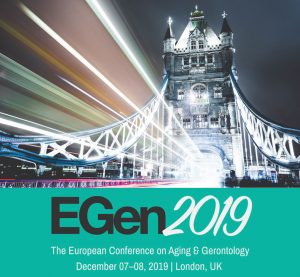 ---