Cáritas Coimbra re-elected for another 3 years for the Vice-Presidency of the European Covenant on Demographic Change
Cáritas Coimbra, in addition to the services it provides, has been investing in two areas in the recent years: research on possible innovative solutions and influence on policies in the area of demographic change, valuing learning and exchanging experiences through national and international networks.
In the research area, Cáritas Coimbra has, in 2019, seven ongoing projects under way, funded by the European Commission under the H2020 programme, the AAL / FCT Programme, Erasmus + and BPI Seniors.
The Smartwork project, which aims to design and test friendly environments for workers over 55.

Jumpair aims to test a new product to prevent and treat pressure ulcers.

The Lifebots Exchange project which aims to increase international, interdisciplinary and cross-sectoral collaboration in the area of social robotic healthcare technology through the exchange of collaborators between entities involved in this Marie Curie project, also from the European Commission.

DAPAS aims to develop innovative, centralized solutions for the older population and their caregiver network by bringing successful products in past projects from different companies and countries, such as Emma, DALIA, Zocaalo, Kwido and RelaxedCare, and integrating them in a single solution that can be distributed on large scale in order to improve the quality of life of even more people.

The Toilet4Me project aims to promote the autonomy of older citizens through research into the relevance of adapted toilets in public and semi-public spaces.

The ReHab project aims to test the achievement of cognitive and functional rehabilitation at home through a unique program of traditional instruments and technological innovations.

The AVIK project aims at exchanging intercultural skills and good practices for social inclusion.
In the collaboration perspective, in addition to the coordination of the Portuguese Network on Smart Healthy Age-Friendly Environments and of the SHAFE Thematic Network, Cáritas Coimbra, as a founding member of the European Covenant on Demographic Change, will hold the Vice Presidency for another three years, through Carina Dantas, and has elected a new representative for the Board of Directors, Ana Jegundo.
Cáritas Coimbra has been represented in this Convenant since 2016. The Covenant is an international non-profit organization established under Belgian law, which operates in close cooperation with the World Health Organization – Network of Age-Friendly Cities and Communities.
Executive members of the Board:
President: Ms. Joan Martin, Chief Executive Louth City Council (IE), 2nd mandate

Vice-President elected by Full members and acting Treasurer: Mr. Sergio Morillo Corzo, Director General of Promotion of Personal Autonomy of the Biscay Country (ES), 2nd mandate

Vice-President elected by Ordinary Members: Ms. Carina Dantas, Innovation Department Director at Caritas Coimbra (PT), 2nd mandate

Secretary General: Ms. Anne-Sophie Parent, Secretary General of AGE Platform Europe (EU), 2nd mandate
Ordinary members of the Board:
Antonia Caro Gonzalez, Deusto University (ES), 2nd mandate
Mireia Ferri, Polibienestar UV (ES), 2nd mandate
Chiara Giovannini, ANEC (EU), 2nd mandate

Prof. Olivier Guérin, City of Nice (FR), 1st mandate

Ana Jegundo, Project Manager, Caritas Coimbra (PT), 1st mandat

Martin Polenz, City of Arnsberg (DE), 2nd mandate

Elise Van Opstal, City of Aalst (BE), 1st mandate
In addition to the Covenant's core objectives of sharing good practices between regions and increasing differentiated responses to demographic challenges in Europe, the Covenant is now the holder of the Silver Economy AWARDs – SEED Awards – and will be responsible for launching the new edition of the awards in 2019.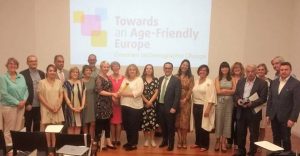 ---