Cáritas Coimbra hosted 2nd SmartWork Consortium Meeting
Cáritas Coimbra hosted the 2nd SmartWork Consortium Meeting, which took place on June 25 at its headquarters.
SmartWork partners met on 25 and 26 June in Coimbra, Portugal, for the second face-to-face Consortium meeting. This followed a successful kick-off meeting in Athens in January 2019.
The SmartWork project, funded by the European Union under the Horizon 2020, aims to develop and validate innovative digital solutions so that older workers can remain actively involved in working life, helping them to renew their work skills and adopt healthier lifestyles, considering possible age-related health conditions.
It is a project coordinated by the company BYTE Computer SA, Greece, and has as partners Cáritas Coimbra and the Pedro Nunes Institute (Portugal), UPAT (Greece), Raising the Floor (Switzerland), Roessingh R & D (United Kingdom), Coin (Sweden), Arhus Kommune (Denmark) and ECHAlliance (Ireland).
Warmly hosted by Cáritas Coimbra, partners took the opportunity to reflect on the significant progress so far and plan for the next phase of the SmartWork project. The Communication and Dissemination Plan, prepared by ECHAlliance, for the first year is available here.
On day one, partners met at the headquarters of Cáritas Coimbra where, in addition to the meeting space, they were also able to enjoy a guided tour to observe the daily work of employees and the spaces where the project will be tested . One of the highlights was the visit to the Day Care Centre, where they could interact with several of the older persons who were in in a technology workshop.
The second day of the meeting took place at the Pedro Nunes Institute, where the partners presented their latest work in developing sensors, artificial intelligence (AI), Global Public Inclusive Infrastructure (GPII), and agreed an action plan across all technical areas for the following six months.
Important decisions were made in terms of which tools available in the market best fit with the goals of the project and could be smoothly integrated with the brand new solutions that the project will develop. Such decisions have been possible thanks to the outstanding review of existing commercially available solutions and state-of-the art research methodologies associated with the multi-dimensional features of the SmartWork system, which is already available on the website here.
Lastly, partners analysed different work and task management tools and discussed the advantages and disadvantages of each of them in view of integrating them with the work flexibility services and on-demand training modules the SmartWork system is expected to provide.
The meeting concluded with partners agreeing that the next consortium meeting would take place in November, location to be confirmed.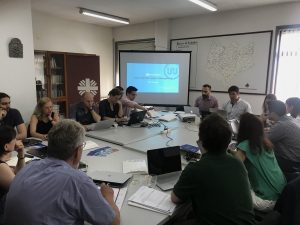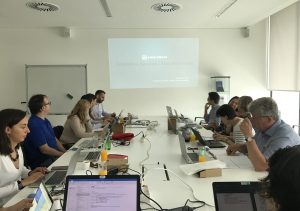 ---